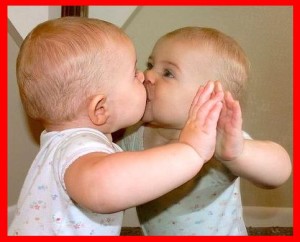 Looking back to junior high school, I can now see that I wasn't a bad looking guy. Yet my incredibly low self confidence and view of myself as unattractive, caused others to see me exactly as I saw myself. I remember once I was walking by a group of girls and I overheard a girl who had just arrived at our school telling the other girls "Hey, he's good looking!" to which one of the other girls responded with a tone of disgust "him? are you serious?" Most of this school did not view me as attractive.
Around the same year, there was this girl who moved into my apartment complex. I told my friends "Hey! did you check out the new girl, she's pretty cute!" Then I saw her at school being picked on and put down by the other students. I slowly began to stop seeing her as attractive. (too bad I wasn't a better man back then who thought for himself).
Now let's fast forward a decade or so into the future. There was this girl who I would normally find to be very average on the attraction scale. I would normally never have had her in my attraction radar – more of a buddy type. But the more I got to know her, I found myself developing an attraction toward her. She was different than most girls who I considered to be at her level of physical attraction. Those other girls would usually have a fluctuating nervous energy depending on whether I was smiling at them or nonchalant in my attitude toward them. But the emotions of this girl did not fluctuate according my approval of her. Instead she always seemed to be feeling good and happy about herself. My approval or disapproval had no effect on her. This was very strange to me because just about EVERY OTHER GIRL who I considered to be less physically attractive than me would almost always, without fail, have that nervous type of energy.
I share these stories with you to express a concept of attraction.
"What you believe about yourself is what the world will believe about you!"
You have been told the importance of loving yourself many times and from many sources. But here is how it applies to attraction. Those in my stories above who were considered unattractive (myself included), felt so because they needed others to approve of them before they could approve of themselves. But the girl in the last story did not need my approval for her to feel beautiful, loveable, and totally accepting of herself.
We must learn to love every part of ourselves! Who gives a crap if we don't look like a Greek god or that sexy movie star. Yes we should always try to look our best because it feels good be physically healthy and take care of ourselves.
When I was at teenager I felt very self conscious about my nose. I thought it was too big. Any time I would speak to a girl I would always be aware of my nose. I would focus my eyes in such a manner that I could see my nose and her at the same time (lol, laughing while typing).
But knowing what I now know about attraction, if I could go back to those times, I would fall in love with my nose. I would love it's uniqueness. I would use it as a point of humor to make myself and the ladies laugh. I would say to the ladies
"Hey! I know why you're digging me right now! It's this beautiful, irresistible, shnozzinsky. Trust me! I know it's hard to resist!"
By embracing and loving every part of yourself, the world begins to be delighted by your outlook and energy. Be your own greatest admirer and the world will follow your lead.
The world will see you, and even more importantly, FEEL about you, the way you choose to FEEL about yourself.
This is not arrogance! Arrogance says "Look at me, I am better than you." Self love has nothing to do with looking down on others. It is simply how we feel about ourselves.
When love becomes a loop from yourself to yourself you no longer NEED approval from the ladies for you are already self approving. When need is removed, appreciation and enjoyment takes its place. And this emotional steadiness draws women to you. A mini-subject called "Congruent Through Resistance" from My Audio Program comes to mind. One minute a woman is saying "no, no, no" then in the very next minute she is saying "let's go, go, go!" (lol, hey I'm a poet!).
What changed her mind? Was I a great salesman? Did I give her the greatest and most elaborate line of all time? Nope! DIDN'T TRY TO CHANGE HER MIND AT ALLl! Simply stayed in my SELF  approval loop and she changed her own mind.
RELATED ARTICLES