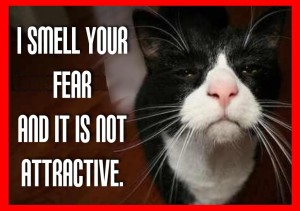 What if I were to tell you there are two words that are the key to getting laid liked or loved. What if I were to tell you that these two words are the basis of all human attraction. They are the basis of the laws of attraction. They are
.. FEEL GOOD!
I'm NOT talking about making others feel good. I'm actually talking about making yourself feel good. This is the key .. MAKING YOURSELF FEEL GOOD!
Now that you understand the key I will mention that helping others to feel good is indeed involved. Now let us add another word to this puzzle. The word is EMOTIONS!
Once again we are talking about YOUR emotions. The emotions that YOU choose to focus upon are the key to getting everything you want from women. For example jealousy and fear of rejection are just two of the many emotions that drain our attractiveness potential because they put us in a weak emotional frame rather than a powerful frame.
But we cannot simply stop our own negative participation. We must instead REPLACE the thoughts that lead us to the negative emotions with thoughts that lead us to becoming our most confident (and therefore attractive) self. We should always replace bad habits rather than simply try to stop them.
The feelings in which you choose to participate will define how attractive you are to women. It is that simple and that complex all at the same time. At the root of this truth is an evolutionary truth that remains a constant amongst all social species (that I am aware of anyway). And the constant is quite simply that ..
FEAR REPELS!
Therefore any fear-based emotion that we as men allow ourselves to participate in or dwell upon or wallow within, becomes an investment in becoming less attractive. We walk around, in a sense, in a state that is the sum of all of our emotional choices.
The more negative investment, the more our overall state of attractiveness is negative.
Does this mean we should walk around singing "Happy Happy Joy Joy" all the time! No, not at all. It simply means that we replace all fear based self-investments with something more powerful.
In The NonGame Audio Program I give you example after example of how to interact with and react to the various situations you will encounter with women. I give you the thought tools to apply to each situation that will raise your attraction level in that moment.
Even if that moment does not conclude in the manner most desired, you will still choose the better mood and the better thought, knowing that you are investing in greater degrees of Attraction energy. Future successes become inevitable because you understand this self-investment principal.
In my audio program, I share a story with you of how I met a beautiful woman at a Las Vegas casino. We totally hit it off and were smiling and laughing and enjoying each others company for a couple hours straight. At one point I invited her to my place to hang out and maybe watch a movie or something. She agreed. But somewhere between the casino and heading to my car she did what almost every woman will do. She changed her mind and got fearful, realizing that she did not know me that well.
Yet because I responded with good energy rather than how most men would respond, she changed her own mind without any help from me whatsoever. And we continued on to my place to enjoy the rest of the evening. Check out the mini-subject in my audio called "Congruent Through Resistance" for the full story. By the way the story that follows that one is equally eye-opening and one of my favorites!
That's just one example. But in reality the entire Audio Program is all about how to make feel good, attraction investing choices rather than instinctual, fear based, attraction-negating choices.
Bottom line! Always make the choice that makes you feel proud as a man and avoid negative and fear based emotions. By doing this you increase your Attraction Energy, and more and more women begin to notice this energy, and be drawn to it.
Learn more about The NonGame Audio Program
RELATED ARTICLES
Audio Program Vs. Articles