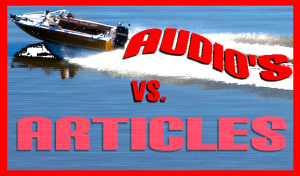 I'm sure some of you are wondering what is the difference between my FREE ARTICLES and my PAID PROGRAM.
If I may offer an analogy. Think of my Free Articles as a sea of information and my Paid Program as a fast moving boat which is supported by that sea.
The Free Articles offer a deeper understanding of the concepts of Attraction. The sea is large and deep and so are the understandings of Attraction. I could give you a few one liners on how attraction really works. You would hear those one liners and say "yes that makes sense, I get it!" Then you would go out into the real world and miss the multiple ways that these truths could be applied to real life and the real world. What culture and society has taught us is a deep and wide ocean in and of itself, often filled with much misinformation. It takes a steady diet of power-filled information to counteract a lifelong diet of unhealthy mental food. So the Free Articles are meant to build your deeper understandings of Attraction and to hit the subject from MANY ANGLES so that the concepts will become second nature to you.
The Paid Program is more like a speedboat on top of this ocean of information. It is designed to take you OUT OF YOUR MIND AND INTO THE REAL WORLD where you will TAKE ACTION which will lead to powerful change from the inside out. I am taking you into the streets of Las Vegas with me where I will show you the most powerful thought processes and practices that will take you from being an average Joe to being a master of Attraction. Much more powerfully than changing your MIND, we will be changing your FEELINGS which are the true key to real world attraction and success with women – "I feel average" vs "I feel incredible!" You will be given the most powerful tools that when applied to your interactions with women will begin to FILL YOU WITH ATTRACTION ENERGY. Certain viewpoints and attitudes work for you while others drain and work against you. You will learn exactly which to focus upon and which to avoid SO YOU CAN WORK COMPLETELY IN YOUR OWN FAVOR as opposed to pulling yourself in opposite directions and ending up nowhere.
The Paid Program is EFFICIENTLY packed with highly valuable, street wise, real world usability. It was created for men who don't have a lot of spare time to read or listen to tons of information but who want lean – fluff and filler free – information. They want eight hours worth of material condensed into a power packed, efficient, TWO HOUR program.
So enjoy the Free Articles, and if the concepts resonate with you then take the next step and get this part of your life handled once and for all. You will be amazed at how many other aspects of your life will be enhanced because we are truly turning you into THE MOST AWESOME AND POWERFUL version of YOU by applying the most powerful Psychological Laws of Attraction – more powerful than the Alpha Male, the Nice Guy, The Bad Ass. We are talking about the next level of Evolution in Attraction. I'm getting a little carried away with my explanation but I just can't help myself. Because I know of which I speak and I am truly excited to share this knowledge with you. You can only truly come to understand these truths by absorbing and incorporating the information, not just into your mind, BUT INTO YOUR REAL LIFE!! You must make it WHO YOU ARE, not just WHAT you know. It is the difference between knowing OF attraction and actually BEING ATTRACTIVE!!
Sharing this information is not just a job for me or a way for me to make a living. It is my passion and it is my greatest gift that I personally have to offer the world. It took me a damn long time to get what I now understand. And now that I have experienced my very own "Aha Moments!" I just really want other people to experience the same and to GET IT!!
Best of luck in making the right choices for your life. In the end, no one can make those choices for you. Your life truly is in your own hands and no one elses!
Click here to learn more about The NonGame Audio Program For Men.