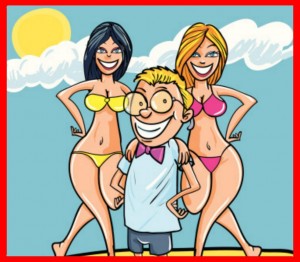 QUESTION: I am a nerd and a beautiful girl is showing interest in me. What should I text her and how do I proceed without her losing interest?
Listen carefully my friend. The more beautiful she is, the more casual you must be. A beautiful woman or girl is used to guys treating them like they are goddesses. When you react the same then she sees you as just another guy who only sees her physically. Here is the truth. Inside this hot and sexy shell is a normal girl who wants to feel special. The truth is that these "hot" girls are sometimes the loneliest girls. Because guys are so busy focusing on her shell, they don't notice any of the qualities that make her the unique person she really is.
So when you text her. forget about her beauty and hotness and ask her interesting questions, like for example I (CJ) am a bit of a nerd also. But because I fully embrace and love the nerd side of myself, I may text her something like this …
"So I'm a bit of a nerd and I'm curious, what would you say is the nerdiest part of you that most people don't know about??"
Then if she says "dude, I'm not a nerd. What's the matter with you??"
Then you say "What's the matter with me? I already told you, I'm a NERD!!!" (unapologetic with relaxed humor. We would rather she move on then for us to back away from who we enjoy being.)
She probably won't say that but she could in worst case. The point is Love yourself and even laugh at yourself from time to time. A real man is like a large steady ship moving through the waters. He is happy in who he is. And the more he remains calm and steady, the more respected and admired he will be by women who try to knock him over with their tests and winds and waves.
Anyways when you text her just talk about everyday buddy stuff that you would share with your buddies. Don't get impressed by her physical beauty but show her you like people who are cool to hang with. Don't try to impress her at all. As a matter of fact, turn the tables on her. Get into the mind frame of her being like an annoying little sister that you like to poke and tease and mess with from time to time. But your underlying reason is to make her smile in the end. Even if you piss her off for a couple seconds.
Remember this, you can never be put in a girls friend zone if you put her in your friend zone first. Never try to get sex. Just make her comfortable and happy to be around you. The rest will happen naturally, without the TRYING.
And "Trying" is the key, at least when you add a "NOT" too it. Remember, you are not TRYing to get anything. You are simply being a relaxed, self and life loving, YOU.