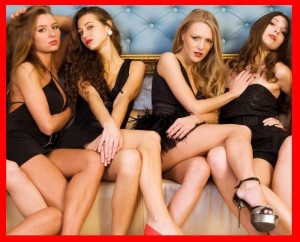 Okay so you are feeling a bit impatient. You want to develop your attraction potential and all that. But you really just want to go meet a woman today. The truth of the matter is that there are no quick fixes. But if you just want to get out there and jump into the deep end then here is some advice for you.
Toss The Stereotypes!
You must understand that there are some women out there that you will be attracted too that will INSTANTLY BE ATTRACTED TO YOU. You must forget about stereotypes – that hot women are attracted to hot men etc. Get it through your head right now that some women will be attracted to you, simply because you are their type. Some models are attracted to nerds (as long as they are confident). Some women are turned off by the male model type hot body because they have been hurt by men who look like this. They believe that a less hot man will not be such a jerk. These are a couple reasons why certain women will respond to you with attraction. It's all about the timing in their life, etc.
Look Forward to Rejection!
To find that girl we must have fun with rejection. Every time you get a rejection give her a high five for rejecting you because now you are that much closer to finding that 1 (out of 10) girl that will be attracted to you.
"That's 1 down. YES!!!". "That's 4 down. NOW I'M REALLY ON A ROLE!!!"
And NEVER BE NEGATIVE toward the girl who rejected you. This will work against your own mind and confidence. We need to understand that women are always testing men. They may not even be aware of it. But the minute you react in a hurt or negative manner, you have instantly put yourself below her and any attraction potential is instantly gone. When you react with humor and your energy does not diminish, you have a chance of creating intrigue. So choose instead to have compassion on her lack of ability to recognize an awesome guy. And this is not a lie, because by now you have followed all the principles in my Audio Book, which will make you the best and most attractive version of you. SO OUTWARDLY show her the love with a high five and wish her well on her own journey. This attitude will leave her wondering if she made a mistake. Whereas negative reaction on your part will make her certain she made the right choice. 
!!! Enjoy Yourself !!!
Have a great time with this process. FUN ENERGY is VERY ATTRACTIVE and shows great confidence. The difference between you and the other guys out there is that you are trying to give yourself a fun time. You are not trying to impress women. Self Entertaining is the true key here. And remember The NonGame is not about playing games with her heart or deceiving to get what you want because we have already learned that deceit actually works against your ability to attract. But creating fun games to make YOURSELF (and her) smile is always a winner. Don't worry about if the girls like your ideas. If you think they are hilarious then use them and let come what may. It is YOUR POSITIVE energy that is key to attraction. Not her approval.
Remember this is not about pickup lines. Our purpose is to increase joy energy within ourselves and then spread it to those in our path. Everything you say is because you love how funny it sounds. If women don't like your humor, that is on them. No worries. This is all about you and your energy. If you let their negativity diminish your energy then you have sent a message to your internal programming that their thoughts are more worthy than your thoughts. And you have sent a message to the woman that you are less than her.
My Personal Experience:
A few years ago when I was hanging out with some friends in downtown Las Vegas, I got a wild hair and tried an experiment. I stood on the street and said the most ridiculous pickup line I could think of. I wasn't focused on attracting women. It just seemed like it would be a blast. So every woman that came by, I said "Excuse me!" with a confident voice, then when they stopped in their tracks, with some slight over-acting,  I said "If you were a booger, you'd be the first one I'd pick!" I was just busting myself up every time I said it. Women were laughing at me or with me. But that didn't matter. Then one woman hung around a bit longer and started playing around with me, acting like she was going to pick my nose. The moral of this story is if you will just say something to women, ANYTHING, you are giving the ones that would naturally be attracted to you the opportunity to talk to you. And that opens the gate to getting the phone number and continuing the adventure of whatever comes next.
Analysis: Creating fun environments and creative ways to play is very important at, what I call, the "investment stages" of increasing attraction energy. YOU are learning to have more fun (super important) while at the same time you are witnessing others having fun and smiling BECAUSE OF YOU. The more these positive and self-created experiences soak into mind and memory, the more your expectation of negative reactions becomes a thing of the past. This raises confidence and attraction energy. You begin to expect people to react positively to you. And your expectation creates its own reality. The more investment of this type of energy now, the less necessary it will be later because you will be so full of attraction energy that it will draw women to you with less effort. Refer to "The Investment That Appreciates" for a deeper understanding of this principle.