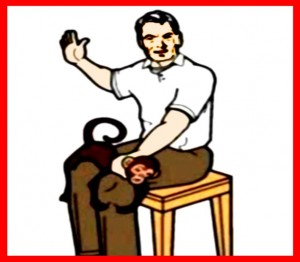 Enlightened Masturbation?
There are many things that we consider shameful or negative that don't have to be. Masturbation is one of them. It can be very healthy when done with the enlightened mindset as opposed to a destructive or shameful mindset.
Words Have Energy
The first thing we can do is toss out the word "masturbation."  This word can be traced back to "manstuprare", which basically translates dishonor or defile with the hand. If you feel like sharing when asked if you participate, you could always respond with a smile on your face "Are you kidding me, I love to make sweet love to myself!" When we use words that are embracing and affirming, we are creating a congruency with our internal feelings of loving and nurturing of our own beings. And when we add ourselves into the mix of those who can fulfill our needs, we become more self fulfilled and less needy. And as we know, less needy equals more attractive.
Maculine Meet Feminine
Think in terms of  reconnecting the masculine and feminine within you. Every human being has both masculine and feminine aspects within them. The enlightened person will not fight against any of these aspects. But will instead, embrace them, smile about them, allow them and include them. The sexiest women are attracted to the fullest man. When we bring together the masculine and feminine within us, and allow those sides of us to re-bond, reconnect, love, and be there for one another, our desperation for the opposite sex decreases dramatically. We then become more confident and generally more whole. Women are drawn to wholeness and confidence just as much as they are repelled by neediness and desperation. Another way to understand this connecting of masculine and feminine within us, is to think a little deeper about the concept of "ME" or "I". "I" is actually an individual embodiment of "WE" (society). I believe I am me because all of me is encapsulated in this skin that I am always in, therefor, I think of myself as an individual. But if you think of yourself as a miniature "WE," then it begins to make sense that in the same way that men and women in a society seem to find a fulfillment in being pulled together, this also becomes true within the individual entity. And in the same way that a man can objectify a woman for the use of her body while ignoring all the many beautiful aspects of her being, so can a man treat his own body in a similarly unloving manner. And this, indeed, would be shameful masturbation. But let's instead do everything with love. you can prove to yourself the power of this right now.
Stand up and close your eyes. Then wrap your arms around yourself. Tell yourself how much you love you, as if you were speaking to the future love of your life. Go ahead, do it now.
If you were not able to feel a warmth of love swirling within you, along with a (at least temporary) feeling of being content and happy, then just keep growing in your journey and it will come!
Better Lover
So now that we are casting away shame and disconnection with ourselves, we can also stop rushing through the process and spend more time with ourselves. Rushing through the process is one of the outgrowths of feeling like there is something wrong with what we are doing. It is also a contributing factor to premature ejaculation. So slow down and take your time and enjoy the process. Become your own best lover. Explore your own body and learn what feels good.
One of the best benefits  has to do with the fact that over 95% of the female and male body are practically the same. For this reason when you learn to touch yourself in the most pleasurable way and in the most pleasurable regions, then you are learning at the same time how to become a great lover of women.
Talk Is Cheap
Finally, this is an incredibly powerful means of becoming a person who truly loves themselves. You have heard the term that talk is cheap. This term is also true with self love. If all you do is tell yourself how much you love yourself, that does not feel real to the unloved parts of yourself. In the same way that a woman showing her love for you with sex and physical contact makes you truly feel loved, making love to your self has similar internal results.
"Dude, I'm Too Manly For This!"
Some men will fear that it may make them less masculine. But this is not the case. If you want to be more manly, BE MORE FEARLESS! Fearlessness to create your own path regardless of what the world thinks.
Others may say, wouldn't this make me less interested in women? Also not the case. But it WILL make you more selective to seek more quality experiences. Your desire to use a woman's body as a masturbatory instrument will decrease. You will still love a beautiful body just as much as before, but you will not feel that NEEDINESS as much.  This will cause you to raise your thoughts to a higher and more enjoyable plain. By reconnecting with ALL of yourself, you will be more balanced and appreciate and enjoy all the beautiful aspects of the feminine energies. If you think sex was good in the past, just wait until you meet an empowered woman that embraces all aspects of herself and her sexuality. This woman will not give herself to the needy guy, but will seek the equally powerful man that you have become.